August Burns Red Proves Not Even A Pandemic Can Slow Them Down
A lot has changed over the last month or so. The days of a normal way of life have been temporally put on hold as social distancing becomes the new norm. And during these precautionary times the music industry, as many others, has taken a huge hit as bands, their crews and the fans have suffered. I myself was set to photograph and review the bands show at House of Blues in Orlando with Killswitch Engage two days after the quarantine announcement was made.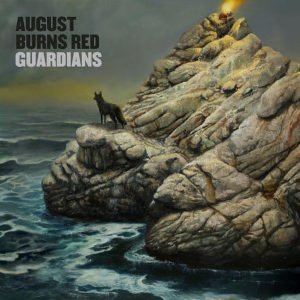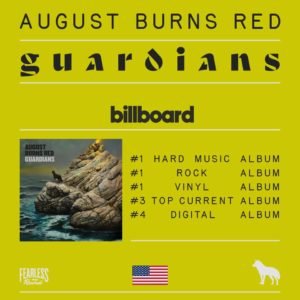 But in the wake of these trying times, August Burns Red dropped their 9th studio album Guardians on April 3rd to an over whelming response. This marks their 3rd release on Fearless Records and the 5th produced by the long time team of Carson Slovak and Grant McFarland. With a total running time of 49:27, this album's jammed packed with hard hitting riffs, motivating lyrics and enough crushing breakdowns to leave you with stiff neck from head banging. This album has hasn't even been out a month yet and has already found its way into multiple #1 album Billboard rankings including Hard Music, Rock and Vinyl and #3 Top Current Album and #4 Digital Album. After listening to this amazing record, it's not difficult to see why.
"The Narrative" was just a brutal track to kick off the record from start to finish, only to be followed up by three top notch singles off the record with "Bones" Defender" and "Paramount". The band slid in the heavy hitters "Ties That Bind" and "Blood Letter" in the middle of the track list dropping the sledgehammer on the ears of the fans. The producers challenged JB Brubaker and Dustin Davidson to create one of the heaviest songs to date in "Blood Letter", and I think they exceeded all expectations. Rounding off this eleven song masterpiece is an anthem of taking a big step back, and looking at things from a different point of view in "Three Fountains". Like the other entries in their career, Guardians is a "press play and let it ride" album where there is no need to touch the fast forward button and just take in some good old fashion angry music for happy people.
Some might not realize that it's not always the singer who brings lyrics to the table, forming the very words that take us on these musical journeys. Guitarist Brent Rambler laid pen to paper on 7 of the albums songs including "Bones" and "Dismembered Memory" while drummer Matt Greiner followed up with 4 triumphant entries including "Paramount" and "Defender". For Greiner, "Defender" is a track that lyrically hits close to home. Matt wrote the the song about himself, going through something in his personal life that caught the attention of his own father, who stood by him and helped him get through that rough period. That's often the true power of lyrics. That the words can be derived from something negative but ultimately can be used to lift others.
Lead guitarist JB Brubaker's constant evolvement in his technical guitar approach is present throughout this collection of songs. JB has said in the past that virtuoso guitarist Tosin Abasi is not only one of his favorite players, but a source of inspiration and as you listen to his solo's, you can hear the bar being raised on every album. His voicing/ phrasing leads fuse different layers together, adding emotion and personality between the riffs and Jake Luhrs earth moving vocals. Luhrs shows us yet again why he is one of the best front men in the business. His vocal arrangement sets the pace for his story telling while the range of that unmistakable roar sets the tone.
This album has been a standout moment for bassist Dustin Davidson's song writing abilities while showcasing his talents on a six string. For those who need a visual aid, look no farther than his play through of "The Narrative". He has 6 writing credits on this album including co-writing "Blood Letter" with Brubaker and is truly a 3 dimensional musician (4 if you count percussion) . Some things that contributed to the creative process was his focus on writing heavier music and not being as technically driven as he was on Phantom Anthem but as well as creating a recording space in his home to fine tune ideas before hitting the studio.
In the midst of Guardians gaining momentum, August Burns Red hit a very high and impressive milestone in their career by reaching the 1 million albums sold plateau. To put it into perspective, that means, if my math is right, the band averages 66,666 units sold per year since their first album Thrill Seeker was released on November 8th of 2005. Those numbers speak volumes on the bands sheer talent and their ability to reinvent themselves from album to album over their 15 year career. Not to mention that in this genre, those kinds of accolades are hard to come by and should further solidify August Burns Red's position as one of the top metal bands in the world. And you heard it here first, I would not be surprised to see another Grammy nod in the bands future for their work on this incredible album.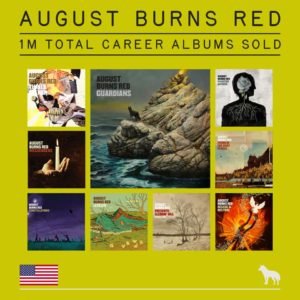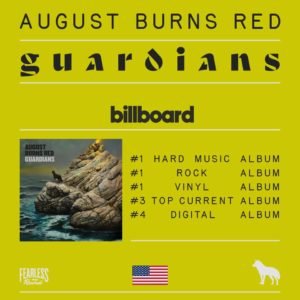 As we the fans sit back and dream of the days when we can gear up to get to a show, the very bands that we can't wait to come to town can't make these tours happen without their crews. These unspoken hero's are the ones behind the scenes that put these shows literally together city after city for months at a time. But unfortunately with no touring, these men and woman are without incomes. Many of them are like family to the band as they've shared the buses and vans with them, loading in and out on the road after all these years. And we can't forget about the guy that brings us all the stunning live images from the shows and life on the road with the August Burns Red, tour photographer/videographer Ray Duker. August Burns Red has setup a COVID-19 Support link on their Spotify page as well as through PayPal (link below) to help support their touring group and need our help. Every little bit goes along way so whatever you guys can spare would be greatly appreciated.
www.paypal.me/augustburnsred?fbclid=IwAR1o9oNNboaJbm17VLN0ZLGplSOQoX4exKTCAzL-9gHgeG9zzKPZKaR9DKI
www.raydukerphoto.com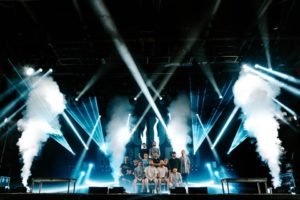 (Photo credit: Ray Duker)
If you haven't already picked up the album of the year, head over the bands site at augustburnsred.com for digital and physical copies and vinyl as well as all of your merchandise needs. Also, be on the look out for August Burns Red Bones Brew and Constellations exclusively from Elder Pine Brewery at www.elderpine.com/home or retail locations!