Periphery's We Come For Tour Brings Down The House At The Ritz
February 10th
15 years ago, five guys from D.C. got together and would end up producing one of the most unique sounds in metal that would launch them into being one of the forefathers of the brutal Djent movement. Periphery's 5th and most anticipated album Hail Stan, was released in April of last year on the bands own record label 3DOT Recordings, making it the first of the bands albums to not be on Sumerian Records.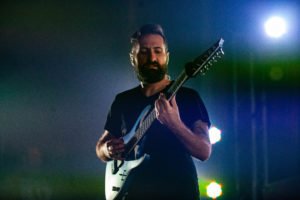 As a room full of music hungry Djent heads excitement starts to boil over, the house lights cut out and the crowd is serenaded by the symphonic intro of Hail Stan's first track, the colossal 13 minute "Reptile". After the soothing sounds of the string sections wears off, Periphery unleashes the punishing main riff which meets the fans approval by throwing their devil horns in the air and engulfing one another in the massive mosh pit that exploded on the first note.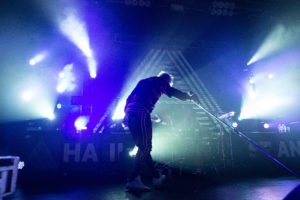 The second song into the set drove Plini drummer Chris Allison to get Misha's guitar and shred to his amazement. Even with all the action on stage it was hard to miss the band being down a member. Guitarist Mark Holcomb has missed out on this U.S. tour due to family matters. A member since 2011, Mark has been laying down his thunderous rhythmic style and the fans surely missed his presence on stage tonight.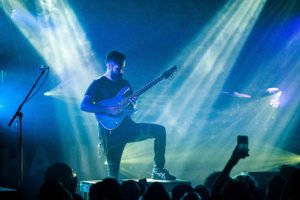 With four songs of the setlist coming from Hail Stan, it left six spots open to span the bands career with songs like "Marigold", Scarlet" and Remain Indoors". Periphery's newest album has been extremely well received since it's debut, but like most bands, it's the older track that have deep roots with the fans. So it was no surprise when that the crowd expressed their appreciation with a thunderous ovation.
This show was a true showcase of Periphery's talent from start to finish, giving us a visual taste to the remarkable music that they create. Misha and Jake trade chugs and leads like they were having a catch while singer Spencer Sotelo's vocal range might have only been out done by his own track suit while he engaged with the crowd. And who can leave out the bands punishing drummer Matt Halpern laying down his rhythmic artillery behind the kit.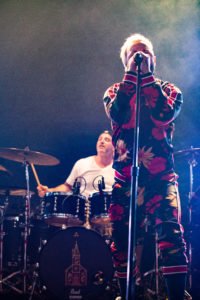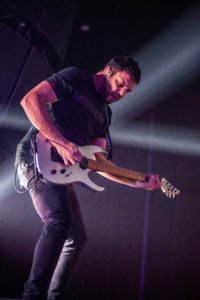 As the We Come For Tour pushes forward across the country singer Spenser Sotelo has developed laryngitis and was unable to sing at two shows in Silver Spring and Brooklyn. But that didn't stop Periphery from pushing forward by giving the fans their standard set, but as an instrumental. So for anyone that might have heard about Spenser's condition, fear not, the show will go on. For everyone hear at Dread Music Review, we all wish him a speedy recovery!