New Found Glory Presents "From The Screen To Your Stereo To Your Town" In Orlando
July 13th
What's better then one of the most successful cover albums ever? How about another one. Hey, what's even better then two? Yep, how about a third! New Found Glory has done it again with From The Screen To Your Stereo III out on Hopeless Records. For the third installment the band has chosen another stellar list of soundtrack hits including "Cups" (Pitch Perfect), "This Is Me"-(The Greatest Showman), "The Power Of Love" (Back To The Future), "Let It Go" (Frozen), "Accidentally In Love" (Shrek 2), "A Thousand Years" (Twilight) and last but certainly not least "Eye Of The Tiger" (Rocky III). Just when you think there's no way they could out do their last FTSTYS album, they come right back 7 more classic hit's that'll have you listening to these remakes in your head the next time you watch any of these movies. With the release of the bands newest album, brings with it the opportunity to hit the road with friends and chalk up another successful tour.
Opening the show is Phoenix natives Doll Skin. Over the last six years, Sydney Dolezal, Alex Snowden, Nicole Rich and Meghan Herring have put out two EP's and two full lengths including Love Is Dead And We Killed Her which was just released on June 28th also on Hopeless Records. These young ladies are full of energy and bite. Their songs are loud, fast and in your face and with an average run time of around 3 minutes, it allows them to pump out song after song before you even know what hit you.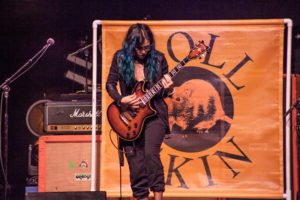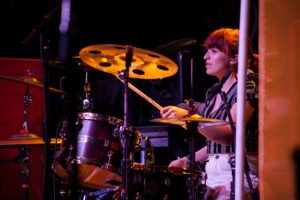 Formed twenty years ago in the "Blueberry Capital ofThe World" in Hammonton, Nj, Early November became local music hero's when they signed with Drive-Thru Records and put out their debut album The Room's Too Cold in 2003. With much anticipation, the band is set to release their new album Lilac sometime this year. Ace Enders voice is captivating and full of range and emotion which seeing and hearing live even exceeds his impressive album work. The bands performance set the bar very high with their stage show and the crowd loved every minute of it.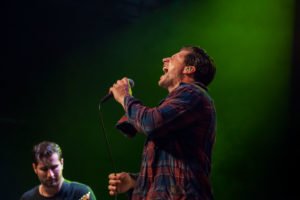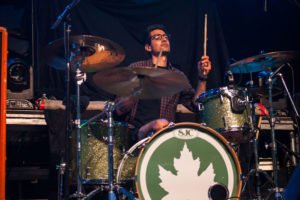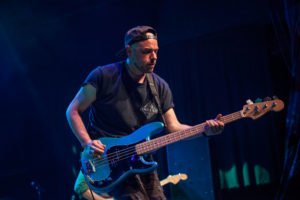 Real Friends has been a common fixture on previous New Found Glory tours for obvious reasons. The band received high acclaim after their 2016 album The Home Inside My Head and relentless touring in support of it. Dan Lambton had fans locked in as he would engage the crowd about starting a mosh pit or encouraging everyone to crowd surf during "Stand Steady". One of the high points of the set was when the band covered The Starting Lines "Island". On May 31st of this year, the band release an acoustic EP entitled "Even More Acoustic Songs" which had a limited release of only 250 units and only 150 of them pressed on clear vinyl on Rock Sound Records. The track list includes "From The Outside", "Me First", "Composure" and "Get By" which were all originally on the bands 2018 album Composure.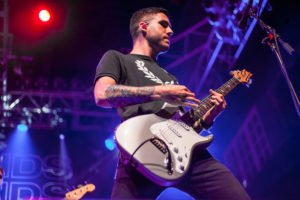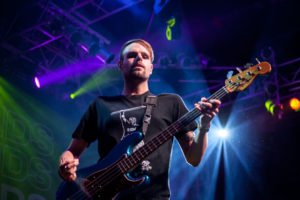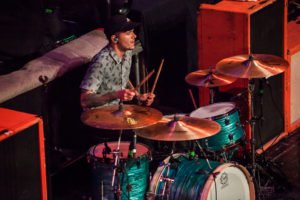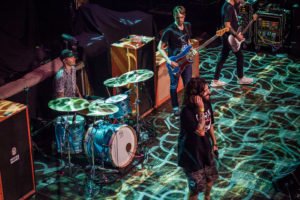 As a 36 year old music enthusiast, musician and of course New Found Glory fan, this would mark the first time I have seen my favorite pop punk band live. Yes, I know that may blow some peoples minds, but it happened so get over it. Shortly after the 20th Century Fox intro music plays, the first four minutes of the show was more then I could have asked for as not only a fan of the band, but being from Philadelphia and hearing "Eye Of The Tiger" ripping through the monitors at a fast two step pace and singer Jordan Pundik running out on stage in full Apollo Creed USA gear complete with boxing shorts, full robe, hood and flag embroidered glove. Once the song ended, I was then able to appreciate the elaborate stage setup which featured a back drop of an old matinee with the city and date on it, as well as a popcorn stand right of the stairs leading to Cryus Bolooki and the drum riser, and to the left of that, a ticket booth area which surprisingly held Yellowcard lead singer and rhythm guitar play Ryan Key.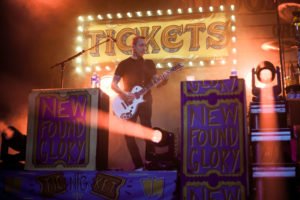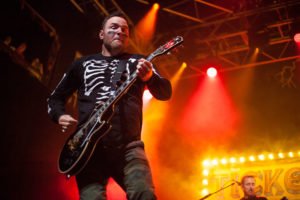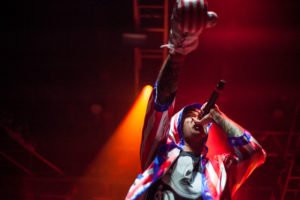 Throughout the show, Jordan had multiple wardrobe changes to suit the appropriate song. For "Let It Go", the stage lights went out and he reemerged looking as angelic as a grown man in an Elsa costume could possibly look, which was a treat to the audience. especially considering that we were in Disney's backyard.  For "This Is Me" Jordan walks back out in dressed like P.T. Barnum, top hat, whip and all. Right before that, guitar player Chad Gilbert had taken the time to address the fans and thank them full heartily for the love and support over the last 22 years, which is what keeps New Found Glory putting out new music. Ryan Key had stepped out from the ticket booth to thank the band themselves for having him out on this tour and for being some of his best friends. Afterwards, the band treated the crowd to small bags of fresh popcorn, which with great effort, were launched all over the venue. Bass player Ian Grushka impressively almost reached the soundboard with one throw.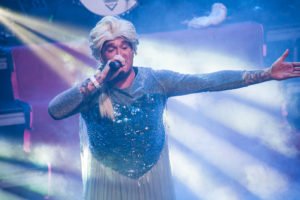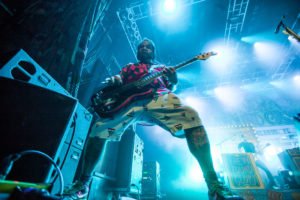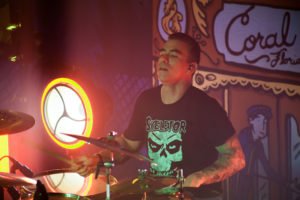 And for the first song of the encore, Doc Brown could be heard giving one of his most famous lines "When this baby hits 88 mph's, you're gonna see some serious shit." Standing with vest, acid washed jeans and even a Mattel Hoverboard in hand, Jordan Pundik tells everyone "It's good to be back!" and the greatest version of "The Power Of Love" I have ever heard unfolded before us. Even with new and old covers in the set, New Found Glory played fan favorites like "All Down Hill From Here", "Sincerely Me" and "My Friends Over You". New Found Glory played a sold out show to the home state fans and exceeded any and all expectations I could of possibly had, as well as everyone else in attendance. With the last show of the tour in Ft. Lauderdale in south Florida, New Found Glory will without a doubt end it all on a very high note.