Ritual Tour brings Soulfly to Orlando
February 5th
As I park down the street from Soundbar in downtown, I see people gathering at the corner. It wouldn't have surprised me if there was someone from one of the bands out there signing something or taking pictures with good fans. Nope. It was the line to get in the venue. As I stood there, I couldn't help but think of A Christmas Story when Ralphie and his brother are waiting to see Santa. But instead of a irritated pissed off middle aged guy in a red suit kicking kids down a slide, I would be waiting for a jolly Brazilian man in a black studded leather vest counting songs off in Portuguese. Even though the line is long, at least I don't have some creepy kid peering into my soul saying "…. I like Soulfly".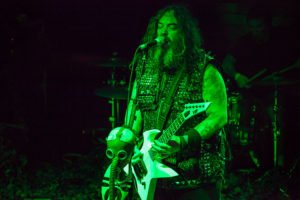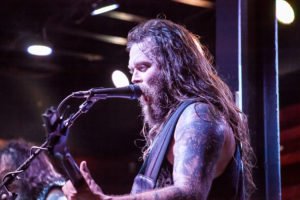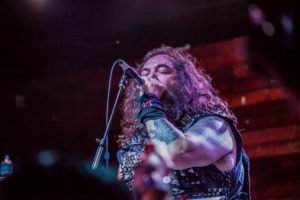 Watching the crew setup all the camo nets and tote out Max's signature mic stand, it starts to become clear that it is very possible that the chaos that is about to ensue might be more then the building is capable of handling. The site is Camden, NJ. The event is Ozzfest. The year is 2000. I witnessed the largest and most insane mosh pit I have literally ever seen materialized by hundreds of human beings reacting to the band unleashing "Eye for an Eye". And now I am in a building smaller then a quarter of that space. The room goes black and the band makes it's way through the curtain of green lighting including Marc Rizzo (Guitar), Zyon Cavalera (Drums), and Mike Leon (Bass) and thunderous cheers. And at last, my heavy metal Santa appears with his new custom ESP RPR draped over him. Then the intro tape of "Ritual" starts to play through the PA like a tribal war chant and within seconds, the entire floor opens up in absolute mayhem.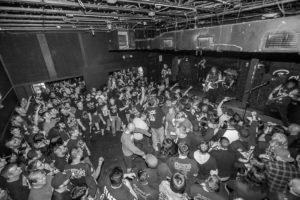 Ritual was released on Nuclear Blast in October of last year. Max has always had great choices in who he has guesting on his albums and this one was no different. Randy Blythe of Lamb of God lent his distinct style to "Dead Behind the Eyes", Immolation's Ross Dolan laid his chops down on the track "Under Rapture" and Max's own nephew Igor Cavalera Jr lent his vocals to the punk rock inspired "Feedback". The family aspect has always been prevalent within the Cavalera circle. Max and brother Igor started trash titan Sepultura in 1984 and after they left the band, they formed Nailbomb in 1994, producing one album and one live show and in 2008 wrote the first of four Cavalera Conspiracy albums. Youngest son Zyon has 3 Soulfly albums under his belt as drummer. Oldest son Richie fronts his band INCITE, which was also on this tour and is now touring Europe. Max's wife Gloria is the Carol Brady of this metal Brady Bunch and she is never far off stage watching her family do what they do best. As I stood on the balcony taking photos, you could see the pride and enjoyment all over her face as she would lightly nod her head to the beat of a song and always with a smile.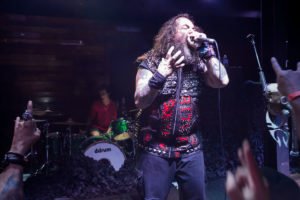 Soulfly virtuoso Marc Rizzo is currently doing a solo tour across the U.S. supporting his 6th solo album Rotation on Combat Records. Soulfly will be hitting the metal festival season in Europe starting June 25th and carrying through August.For all music, merch and tour info, check out MarcRizzo.Net and Soulfly.com.