WASI STREAM UPCOMING EP COUP LISTEN NOW EXCLUSIVELY ON PASTE MAGAZINE TO BE RELEASED TOMORROW, MAY 9th
WASI
STREAM UPCOMING EP COUP
LISTEN NOW EXCLUSIVELY ON PASTE MAGAZINE
TO BE RELEASED

TOMORROW

, MAY 9th
EP RELEASE SHOW SET FOR MAY 12th AT 
THE HI HAT IN LOS ANGELES
"a more poppish Sleater-Kinney for the next generation."
– Curve Magazine
APRIL 14, 2017 – LOS ANGELES, CA –
Today Paste Magazine has the exclusive first listen of
Coup
– the new EP from WASI. The EP will be officially released
tomorrow
, Tuesday May 9
th
. Fans can pre-order and purchase the EP here:
http://www.isawwasi.com/
Coup is the second EP from WASI. Finding inspiration in their activism and DIY/punk communities, Coup tells their story of growing up as the underdogs in spaces where being their authentic selves wasn't safe, and how finding the power to create their own space.
From playing sold out feminist and LGBTQ events throughout the west coast to even throwing their own music festival – Women Fuck Shit Up Fest (WFSU FEST) – was what they needed to build the unstoppable community that WASI continues to thrive in and spearhead.
WAS explains, "The songs on this EP touches on our finding the power within ourselves. It touches base on our past as kids feeling lost in tender times to the power we find in our activism and community."
Coup
Track Listing: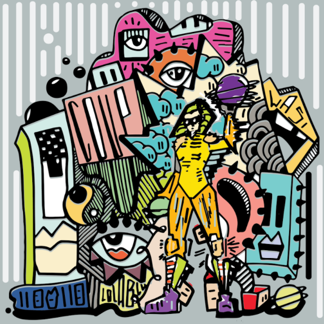 1. Floor Talk
2. Pussy Grabs Back
3. Pseudo Halo
4. Superhero
5. Gold
WASI is based in Los Angeles, California and have upcoming shows in the area and are confirmed to perform at OC Pride on
June 24th
. They've been previously featured with publications such as LA Weekly, FUSE, AfterEllen, Billboard, OC Weekly, Pride, and much more. They've also shared the stage with artists such as The Mowgli's, Moving Units & Madame Gandhi.
Learn more about WASI