GIFT OF GAB Releases "Freedom Form Flowing" Music Video Lyrically Boisterous Features R.A. The Rugged Man and A-F-R-O
GIFT OF GAB
Releases "Freedom Form Flowing" Music Video
Lyrically Boisterous Features R.A. The Rugged Man and A-F-R-O
GIFT OF GAB
Photo credit: Mark Austin Heim
One half of rap duo Blackalicious, lyrical acrobat GIFT OF GAB has released a video for "Freedom Form Flowing", featuring fellow wordsmith MC's R.A. The Rugged Man and A-F-R-O. "Freedom Form Flowing" is the latest single off of Rejoice! Rappers Are Rapping Again, his newest EP available exclusively on Patreon. The video release follows up the release of "The Gentrification Song", which premiered earlier this summer on NPR.

With a classic hip-hop feel to the production and unique, rapidfire delivery, "Freedom Form Flowing" is a perfect reflection for the culture and energy that Gift of Gab has encompassed. The drum, bass, keys, and claps form a perfect background and rampway to showcase the lyricism, poetics, and bravado of real MC's. The song reflects a passion and skill for MCing as a platform, showcasing the fun without vapidity, and conveying passion without being humorless.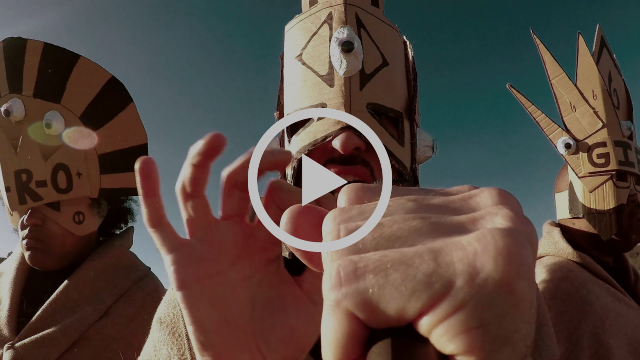 Gift Of Gab "Freedom Form Flowing"

Gift of Gab's Rejoice! Rappers Are Rapping Again is exclusively available via his Patreon campaign which gives rewards for each level of subscription beginning at $1 and offering different tiers. Rewards include having your name printed in the upcoming record, getting your photo on the album art, and tons of other merchandise and exclusives!

The inspiration for starting this Patreon campaign reaches all the way back to 2012. Five years ago, Gift of Gab began dialysis treatments after undergoing surgery for kidney failure. "This was something that completely changed my life and made me realize how important every moment we have on this Earth really is," says Gab. The treatments have necessitated adjustments to his everyday life, making it difficult to be on the road as often as he would like. 10% of all proceeds will be donated directly to the National Kidney Foundation. "I want to thank all of my fans who have supported me and my music over the years and continue to do so." says Gab, "Without all of you I couldn't make all of this happen."

Praised by All Music Guide as "one of the very finest MCs to ever pick up a microphone" and Pitchfork for his "astonishing verbal dexterity and enunciation", Gift of Gab is best known for being one half of the Bay Area's celebrated hip-hop duo Blackalicious. However, Gab has also had a long and prolific solo career that began with 2004's album, 4th Dimensional Rocketships Going Up and continued with 2008's Escape 2 Mars and 2012's The Next Logical Progression which featured many guest artists including Martin Luther, Zion I, George Clinton as well as his Quannum brothers Lyrics Born and Lateef the Truthspeaker.

Gift of Gab's EP Rejoice! Rappers are Rapping Again  is available now exclusively via Patreon.