FRANK SINATRA'S 'FRANCIS ALBERT SINATRA & ANTONIO CARLOS JOBIM' TO BE RELEASED 7TH APRIL IN EXPANDED 50TH ANNIVERSARY EDITION
FRANK SINATRA'S 'FRANCIS ALBERT SINATRA & ANTONIO CARLOS JOBIM' TO BE RELEASED

7TH APRIL

IN EXPANDED 50TH ANNIVERSARY EDITION
CD & Digital Commemorative Edition Adds Two Bonus Tracks; Remastered Album // Also Available on 180-gram Vinyl LP & Exclusive, Limited Edition Blue Vinyl LP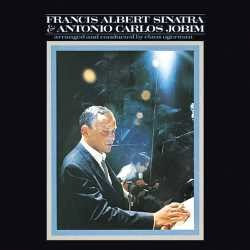 Frank Sinatra's acclaimed 1967 album with Brazilian music legend Antonio Carlos Jobim, Francis Albert Sinatra & Antonio Carlos Jobim, has been expanded for its 50th Anniversary Edition. It will be released on UMC/FSE both on CD and digitally on 7th April. On the same date, the remastered original album will be released on heavyweight 180-gram vinyl LP and in a limited blue vinyl edition, available exclusively from the Sinatra Shop and UDiscover Music.
Francis Albert Sinatra & Antonio Carlos Jobim
brought together two maestros from divergent musical worlds in a serene sigh of sun-dappled bossa-nova. In evening studio sessions at Hollywood's Western Recorders, between January 30th and February 1st, 1967, Sinatra breathed new life into the album's 10 songs, accompanied vocally on four by Jobim, who also played guitar. The album's tracks include seven Jobim originals and three American Songbook classics, delicately arranged and conducted by Claus Ogerman with a studio orchestra, and produced by Sonny Burke.
"I haven't sung so soft since I had the laryngitis,"
joked Sinatra during their first evening together in the studio, easing into the hushed swing of the sessions.
Francis Albert Sinatra & Antonio Carlos Jobim ascended Billboard's albums chart in April 1967, peaking at No.19 and remaining on the chart for 28 weeks. The 50th Anniversary Edition's CD and digital formats include two bonus tracks: A medley of "Quiet Nights of Quiet Stars"/"Change Partners"/"I Concentrate on You"/"The Girl from Ipanema" from A Man And His Music + Ella + Jobim, and a previously unreleased studio session of "The Girl from Ipanema" from January 31, 1967.
About Frank Sinatra:
Throughout his six-decade career, Frank Sinatra performed on more than 1,400 recordings and was awarded thirty-one gold, nine platinum, three double platinum, and one triple platinum album by the Recording Industry Association of America. Sinatra demonstrated a remarkable ability to appeal to every generation and continues to do so; his artistry still influences many of today's music superstars. The Oscar® winner also appeared in more than 60 films and produced eight motion pictures.
Sinatra was awarded Lifetime Achievement Awards from The Recording Academy, The Screen Actors Guild and the National Association for the Advancement of Colored People (NAACP), as well as the Kennedy Center Honors, the Presidential Medal of Freedom and the Congressional Gold Medal. Today, he remains a legend and an inspiration around the world for his contributions to culture and the arts.
For more information about Frank Sinatra, visit sinatra.com.
facebook.com/sinatra
twitter.com/franksinatra
instagram.com/sinatra
100.sinatra.com
'Francis Albert Sinatra & Antonio Carlos Jobim' (50th Anniversary Edition) tracklisting:
CD / Digital / 180g Vinyl LP / Limited Edition Blue Vinyl LP​
(Side one)
1. The Girl from Ipanema
2. Dindi
3. Change Partners
4. Quiet Nights of Quiet Stars
5. Meditation
(Side two)
6. If You Never Come to Me
7. How Insensitive
8. I Concentrate on You
9. Baubles, Bangles and Beads
10. Once I Loved
Bonus Tracks
11. Sinatra-Jobim Medley:
Quiet Nights of Quiet Stars/Change Partners/I Concentrate on You/The Girl from Ipanema (from A Man And His Music + Ella + Jobim)
12. The Girl from Ipanema (previously unreleased studio session from January 31, 1967)
Preorder Francis Albert Sinatra & Antonio Carlos Jobim (50th Anniversary Edition): https://FrankSinatra.lnk.to/50thAnniversaryUDiscover