Review Of Des Roc's New EP This Is Our Life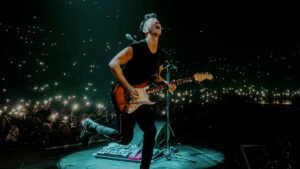 Des Rocs has been captivating the ears of his fans and music lovers for the last two years.  In that time his unique musical style has graced us with two phenomenal EP's with 2018's Let the Vultures In and Martyr Parade the following year.  With a year plague with misfortunes Des Rocs give us hope with his newest installment showing us how our greatest tragedies becoming our greatest strengths and capturing the true triumph in our flaws, and the clarity found somewhere at the end of our rope with  This Is Our Life.
Des wastes no time getting his listeners adrenaline going as "POS" has us feeling like we just got shot out of a canon. It's high tempo fuzz infused explosion has elements of modern day punk mixed with electronic components which gives the track an unorthodox pairing, but damn does it flow well.
I personally would have loved to have the track time in the ball park with the other songs on the record and be able to ride the energy just a bit longer.  The title track "This Is Our Lives" which is also the first single, has more of that vintage rock vibe that some might expect to make an appearance on a Des album.  The songs chorus line leaves listeners in a trans like state as the melody floats through our ears and subconscious.
"Nothing Personal" starts off a bit eerie, like something out of a dream. But you get slapped back to reality with the hard hitting chorus line and catchy guitar riff that just has you rocking along in your seat.  Des slides in his lead guitar work for the song's solo that would made Jack White nod with approval.
As the song winds down we're met with a darker side of the dream which builds up only to dissipate with the single notes of a piano echoing from our speakers.  For "Pieces" we get to experience the the different vocal approaches Des Rocs has to offer.  From the darker shades of Roy Orbison to the addictive humming harmony parts behind the main vocals.  This is also another fine example of how well Des combines electronica with more traditional rock rhythm.
"Suicide Romantics" brings all the energy down a bit a Des Rocs goes more acapella with his guitar as the pair reveal a more intimate track.  The song rolls along with a climatic buildup similar to My Chemical Romance's "Welcome to the Black Parade" until it breaks down with another solo by the one and only Des Rocs, carrying us to the end of this triumphant track.
Wrapping up this EP with the song "Love and a Smoking Gun" was the surprise I didn't see coming.  At first listen I'm expecting to follow the same path as "Suicide Romantics" as it's another solo Des vocal display. But instead, was met with an avalanche of guitar, drums and a horn section until it settles on a heavy hitting breakdown.
With another buildup consisting of the same elements, the next breakdown hits even more intensely than the first.  As we ride the on powerful vocals of Des Rocs for the remainder, the song ends with a vibrato chord that sounds similar to the ending of a James Bond film.  Fans should know that this stellar track is only available on the hard copy versions.
This incredibly talented artist has something that is very hard to achieve in the music industry, and that is a having very unique voice and approach to his songwriting.  He takes old school music, adds modern day ingredients, pours them into a beaker and out comes these intuitive and fresh tracks.  I would love to be able to witness this musical talent in the wild to witness what I can only imagine is nothing short of extraordinary.
But with the worlds current state, the only confirmed show to catch Des Rocs would be at DWP's Aftershock Festival on Friday October 8th.  And if there is any doubt that Des Rocs can hang with the big boys, you just take a look at the lineup that night which pretty much says it all! Get out and pick up This is Our Life or stream it on all major stream platforms. For all Des Rocs merch head to his website at desrocs.com.