The New Regime Launch Intimate Live Stream From Gold Diggers In Hollywood

The New Regime is the brain child of musical maestro Ilan Rubin. With a professional career is music spanning 23 years, Ilan has earned his seat with such bands as Angels & Airwaves and Nine Inch Nails. But The New Regime would be his own creative space that allows his musical imagination to know no bounds. Rubin writes and performs every aspect of his records which in turn allows his distinct sound and style to take shape and give life to every facet of his vision. His latest record Heart, Mind, Body & Soul was released on March 6th was "A two year labor of love" according to Rubin, which timed perfectly with a coinciding tour along side Silversun Pickups. But it would only last 2 weeks as the announcement of the nationwide quarantine would go into effect, stopping live touring in its tracks. But tonight would award the band the opportunity to deliver the bulk of new material off this fantastic album to the world.
When we first put eyes on the band we're on the floor of Gold Diggers in East Hollywood as they converse amongst themselves while Ruben throws out a "Unchained" riff and "Hot for Teacher" tap teaser which is immediately met with "Jokes, nobody get excited". As Ilan Rubin gets the cue that they are about to go live he thanks all the viewers for tuning in and let's have a good time. Drummer Rob Ketchum kicks off the show with the electronic drum beat from the first single off Heart, Mind, Body & Soul with "Way to Feel Again". This song was my first taste of The New Regime and it reeled me in immediately. It has a Nine Inch Nails vibe with the intro but explodes into it own with the chorus as Ilan's voice soars. Watching the band play their first show since March it was not hard to see the excitement of getting play for a crowd, even if it was a crowd through cyber space.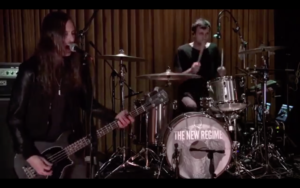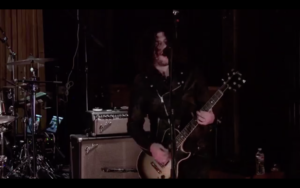 After the upbeat bass infused "Turn a Blind Eye" and the 3 piece harmony of the hypnotic "You Can Be (Whoever You Want to Be)" Ilan reminisces with the fans and the band about this being their first time at a venue or even a bar in 7 months. I am sure the band had a couple rehearsals before this show, but I don't know if anything can really prepare a band to give an all out performance to an empty room and still be able to keep the energy high. With that though in mind The New Regime come out with "Struggle In My Bones" followed by "Say What You Will" off of 2013's Exhibit A. Both songs had great drive as Rubin's rock influences surfaced with his fuzz saturated guitar riffs and solo. But it was Ilan's six string assault during the solo for "No Traces" that you could really see him let loose. It wasn't hard to miss him channeling his inner Jimmy Page while he let the notes fly in between each bar as those token Zeppelin double hits echoed off the drum kit.
Tonight would mark the first live appearance of the track "Smoke and Mirrors". The heavy handed riff and and thunderous "When the Levee Breaks" style drum beat pounds away until you're carried away by the songs euphoric chorus section. I really hope this song makes future set lists when the band gets back on the road. "Knocking Down Your Door" provided more of an upbeat pop feel, throwing kind of a curve ball into the flow of things but yet another solid track none the less. At the break, Ilan takes the time to introduce the band with Kemble Walters on bass and Rob Ketchum on drums. He then admits that "Although I wasn't sure it would be too much fun, we're having a great time". I know nothing can compare to hitting the stage in front of a live crowd, but The New Regime has really given it their all through out the show and I'm sure it has felt good to perform once again.
After the bands entry of "We Rise, We Fall" off 2015's Exhibit B, the band would close out the show with the title track off their newest album titled "Heart, Mind, Body & Soul". With a powerful chorus line that is usually reciprocated from the crowd back to the band, The New Regime adapted and played this final song with as much enthusiasm and passion as they would for a live audience. I don't think it could be said any better in describing what went into making the record. Ilan Rubin truly put his heart, mind, body & soul into this album and its concept which shows through every track. His idea to release the album in 4 parts so the listeners could digest each section 4 songs at a time, instead of expecting them to interpret through 16 songs as a whole was unique and inventive.
At only the age of 33, Ilan Rubin has solidified himself as one of the great talents in the music industry and has even locked in the record for youngest Rock & Roll Hall of Fame inductee for his work with Nine Inch Nails over the last 11 years. We can only hope that Ilan and The New Regime can pickup where they left off and hit the road soon so we can all enjoy the music of this phenomenal band. Make sure to get over to thenewregime.com to get your copy of Heart, Mind, Body & Soul on limited edition vinyl. All 250 pre-orders will be signed so move fast!