Industrial-Electronic Project Chiasm Releases "Are You Okay?" Remixes For Bandcamp Friday; Features John Fryer, Stabbing Westward, Jean-Marc Lederman (Front 242/The Weathermen)
Chiasm
The Industrial-Electronic Project Of Emileigh Rohn
Releases "Are You Okay?" Remixes
For Bandcamp Friday (August 7) HERE
New Collection Features Original With Collaborator John Fryer
(Black Needle Noise & Producer Behind Depeche Mode, NIN)
Plus Remixes From Stabbing Westward, Jean-Marc Lederman (Front 242/The Weathermen) & More
"Are You Okay" Is the Second Single From Forthcoming
 Full-Length Album Missed The Noise
To Be Released Via Indie Industrial Label COP International
(Photo courtesy of Chiasm)
Industrial-electronic act Chiasm today releases a brand-new collection of remixes for her single "Are You Okay?" for the next edition of Bandcamp Fridays. The initiative kicked off in March to support artists impacted by the pandemic with distributor Bandcamp waiving its commission fees the first Friday of each month in order to put the money directly into artists' pockets for each sale.
Purchase the collection of "Are You Okay?" remixes HERE. 
The project of Detroit-based musician Emileigh Rohn, Chiasm has become known for cultivating lush, eclectic, eerily dystopian sonic landscapes with delicately balanced vocals for the past 20-plus years. Her new song plays directly into the current landscape we find ourselves in amidst COVID-19, racial tensions and economic distress with a poignant "check-in" for listeners—and to let them know they are not alone.
For the remix project, a who's who of talent contributed their very distinct tastes on the song. The album kicks off with the original track featuring Chiasm's regular collaborator John Fryer (Black Needle Noise and the noted producer behind Depeche Mode, Nine Inch Nails, 4AD, Cocteau Twins and Love and Rockets). Remixes are courtesy of Stabbing Westward vocalist Christopher Hall, Jean-Marc Ledermann (Front 242/The Weatherman) and more.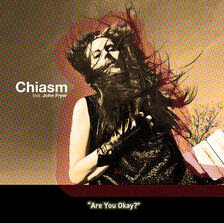 "Are You Okay?" Remix Collection Cover Art
The full tracklisting is as follows:
1) Are you Okay? John Fryer [original]
2) Are you Okay? Stabbing Westward Remix
3) Are you Okay? Jean-Marc Lederman Remix
4) Are you Okay? Third Realm Remix
5) Are you Okay? Glass Apple Bonzai Remix
6) Are you Okay? Unitcode:Machine  Remix
7) Are you Okay? Shawn Brice LovelessLove Remix
8) "Knocking" Acclimate Remix
Of working on the song, Christopher Hall (Stabbing Westward) says, "From the very first time I heard 'Are you Okay?' I was immediately drawn into the song. What really intrigued me was the fragile vocal performance combined with the lyrics that expressed not only a traumatic personal pain but also deep compassion and empathy for the person who had caused the pain. As cool as the track was, I heard a different soundtrack to the scene that was playing in my head, something that matched the fragility of the vocal but also grew to greater intensity to capture the extremes of the feelings. I was surprised when Emileigh asked me to sing on the song and it took me a few days to figure out how my voice could help lend anything. It was really fun and cathartic to work on the track and I'm very grateful I was granted the opportunity."
Jean-Marc Lederman adds, "My understanding of English is alright, I think, but we non-English native speakers do get songs on a pure acoustic level at first even though we do grab pieces of the lyrics here and there. So for me, listening to the original mix of 'Are You Okay?' was more like hearing an encapsulated moment in life, a whole little world in itself. First the music appears, then the vocals—a vehicle for sadness and sorrow but also, compassion and someone opening their heart to the pain of a fellow human, a global impact, one one-size-fits-all 'I'm hurting' statement. When I got the stems for the remix, I wanted to go to an ominous ambiance, something simple dragging you into its own sonic logic. With Emileigh's vocals, she grabs you and whispers a terrible story in your ear, and you cannot escape from that moment. And it's when all unfolds that you're facing the terrible truth: isn't Emileigh talking about you?"
"Are You Okay?" is the second single from Chiasm's full-length album, Missed The Noise, to be released later this year by COP International—the label home of Stabbing Westward, Deathline International and Suicide Queen.
The newest release follows a long line of notable releases from Chiasm (established in 1997), including the 2001 album Disorder with the track "Isolated" that was featured in the television show NCIS as well as in the Vampire: The Masquerade Bloodlines computer game. Rohn has also collaborated with genre stars Attrition, Carphax Files, Jean-Marc Lederman, Third Realm, :10:, and Acclimate.
All of Rohn's previous releases had been self-written, programmed, performed and produced in her Michigan studio known as the MausHaus. The music, and the project name (which refers to the optic chiasm, a crossing of optic neurons in the brain that allow people to have continuous and peripheral vision), are in dedication to her full-time career in the field of science.
(Photo credit: Paul Natkin)
About COP International
The year 2019 was a crucial one for COP International as the label teamed up with legendary producer John Fryer to form a production company under the COP International umbrella. Fryer is producing and engineering the majority of the forthcoming COP catalog and also working as A&R in helping to select appropriate acts. "The level of craftsmanship, artistic talent and meticulous attention to detail is what sets John's work a world apart," says COP International founder Christian Petke. "After working with him on some remixes for COP and Deathline International's new album Pax Americana, I knew I found the perfect partner for COP International. When we first started talking, I brought up John's relationship with 4AD where he was the principal engineer and producer. This is exactly what we have in mind for this collaboration. Scout, nurture and develop exceptional talent. Driven by the desire to create a body of work that speaks for itself. "
Find Chiasm Online