Insomniac Announces Dates and "Future Owl" On-Sale Details for EDC Las Vegas 2020


Insomniac Announces Dates and "Future Owl"
On-Sale Details for EDC Las Vegas 2020
The world's largest dance music festival returns for its 10th year at the
Las Vegas Motor Speedway May 15, 16 and 17, 2020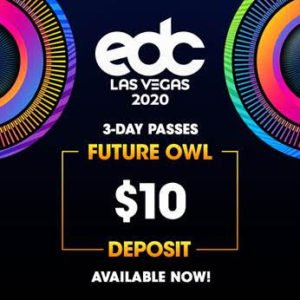 Take a visual tour of EDC Las Vegas through the years at insom.co/10YearsOfEDCLV
Limited Tickets Now On Sale at lasvegas.electricdaisycarnival.com/tickets
Las Vegas – In anticipation of its landmark 10th year in Las Vegas, Insomniac has announced official dates for the 2020 edition of the world's largest dance music festival. Electric Daisy Carnival Las Vegas will return to the Las Vegas Motor Speedway on May 15, 16 and 17 for three historic nights of music, art, and community. Over the past 10 years, EDC Las Vegas has distinguished itself as one of the world's most innovative and transformative music festivals, embodying the inclusive spirit of "All Are Welcome Here" and hosting guests from over 100 different countries and all 50 states. As the festival celebrates a decade of dance in the beautiful city of Las Vegas, its supportive community continues to solidify the event's status as dance music's premier, can't-miss event.
"I didn't know what to expect when I brought EDC to Las Vegas back in 2011, but I'm so humbled by the way in which the city has wholeheartedly embraced the event, our culture, and the Headliner community that has called EDC home for the past decade," says Insomniac Founder and CEO Pasquale Rotella. "That midnight desert magic and those epic kineticFIELD sunrises are forever linked to the festival's DNA. I'm grateful for all the support we've received, and I can't wait to celebrate 10 years Under the Electric Sky."
Every year, EDC delivers an unrivaled experience complete with over 200 dance music champions, groundbreaking art installations, innovative stage productions, full-scale carnival rides, captivating costumed performers, and a unique culture of positivity and togetherness unlike any live music gathering in the world. Relive the magic of EDC Las Vegas with 2020's Announcement Teaser Video, and make sure to tune in to Insomniac Radio to hear exclusive live sets from EDC Las Vegas 2019, which will be broadcasted all weekend long at radio.insomniac.com.
Fresh off a sold-out crowd of 465,000 Headliners, the largest attending crowd in EDC history, Insomniac will continue to push the boundaries of what a live music experience can be during this milestone celebration taking place May 15-17, 2020. As a thank you to every loyal Headliner who has journeyed to EDC Las Vegas, tickets for the 2020 festival are now on-sale, with just a $10 deposit needed to secure a GA, GA+ or VIP pass. For a limited time, Future Owl tickets can be purchased at lasvegas.electricdaisycarnival.com/tickets.
Stay tuned for more exciting EDC Las Vegas 2020 details and announcements at ElectricDaisyCarnival.com. Follow EDC Las Vegas on Facebook, Twitter, and Instagram.
###
About Insomniac
Insomniac produces some of the most innovative, immersive music festivals and events in the world. Enhanced by state-of-the-art lighting, pyrotechnics and sound design, large-scale art installations, theatrical performers and next-generation special effects, these events captivate the senses and inspire a unique level of fan interaction. The quality of the experience is the company's top priority.
Throughout its 25-year history, Insomniac has produced more than 2,000 festivals, concerts and club nights for nearly 5 million attendees across the globe. The company's premier annual event, Electric Daisy Carnival Las Vegas, is the largest multi-day music festival in North America, and attracts more than 400,000 fans over three days.
The company was founded by Pasquale Rotella and has been based in Los Angeles since it was formed in 1993. In 2013, Insomniac entered into a partnership with global entertainment company Live Nation.
Keep up with Insomniac announcements and news on Insomniac.com, Facebook and Twitter.